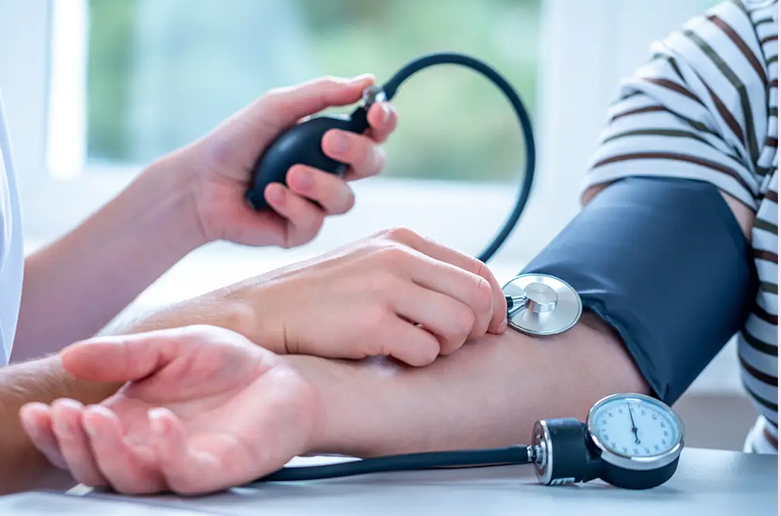 What is High Blood Pressure?
Hypertension is a condition in which blood flows with a force higher than usual through the blood vessels. Blood pressure is usually represented as 120/80 (or '120 over 80'). Because blood pressure changes with a pulse, there are two numbers. When the heart beats, blood is pumped into the arteries, the greater pressure (120) signifies the pressure in the arteries i.e. Systolic pressure. When the heart is calm between beats, the lower pressure (80) indicates the pressure in the arteries i.e. Diastolic pressure.
Blood pressure levels vary from person to person. The following are the several types of blood pressure measurements:
• Normal Blood pressure: <120 /80 mmHg.
• Pre-hypertension: 120-139/80-89 mmHg.
• Hypertension: 140/90 mmHg or above.
In India, Hypertension is directly responsible for 57% of all stroke fatalities and 24% of all coronary heart disease (CHD) deaths. According to recent research from India, the prevalence of Hypertension is 25% in urban areas and 10% in rural areas.
Blood Pressure as per Ayurveda
Hypertension is an illness that is not addressed in the Ayurvedic text, but we may include it in Doshaja Nanatmaja vikara based on its signs and symptoms. Every organ's work is carried out by prakrita vata, and every organ's gati (blood flow) is maintained by it. Blood circulation is disrupted in hypertension due to vitiated vata. Vyana Vayu's effect on the pumping action of Hridaya or heart and the processes of Rasa Vikshepana (circulation) is useful in understanding the condition.
In Ayurveda, systemic arterial hypertension is explained by the participation of vitiated Doshas, particularly Vata and Pitta dominating Tridoshas, which obstruct the flow of these Doshas in their respective bodily micro-channels. The notion of Avarana (occlusion in the regular functioning of Dosha) helps to comprehend Hypertension and should be addressed for a better outcome while treating the condition from an Ayurvedic perspective.